Technical Specifications
| | |
| --- | --- |
| Material | Aluminium |
| Security | Supplied with locks and keys |
| Fixing Method | Attaches to integrated solid roof rails on this car |
| Maximum Load [kg] | 75kg |
| Dimensions (mm) L x H x W | 1100 x 30 x 53 |
| Approvals | TUV and ISO tested |
Roof Type
This set of roofbars will fit this vehicle so long as the vehicle comes with solid roof rails, see the image to get an idea of what solid rails looks like, in some markets this car is sold without these rails and therefore a different set of roofbars is required. If you have these rails then this is the correct set of bars.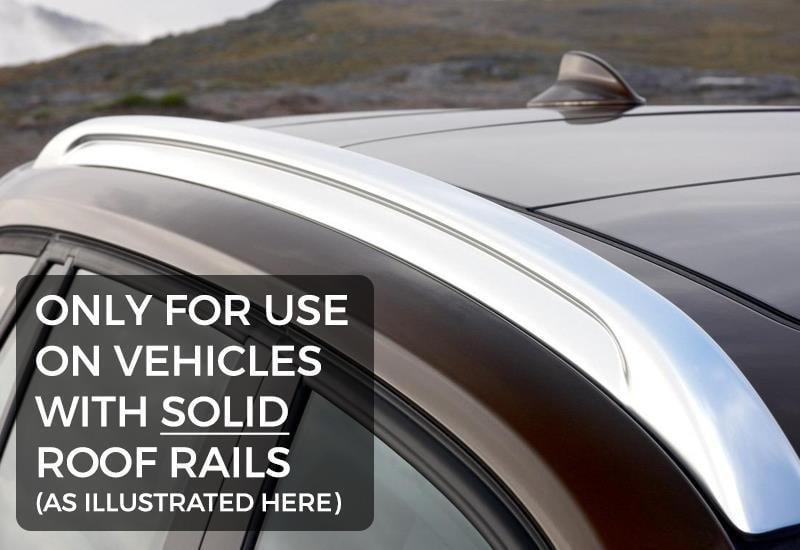 Security
Unlike a lot of our competitors who either supply flimsy locks and keys or charge separately for locks and keys, our roof bars come with quality metal locks and keys included, this will help to prevent theft and give you extra peace of mind.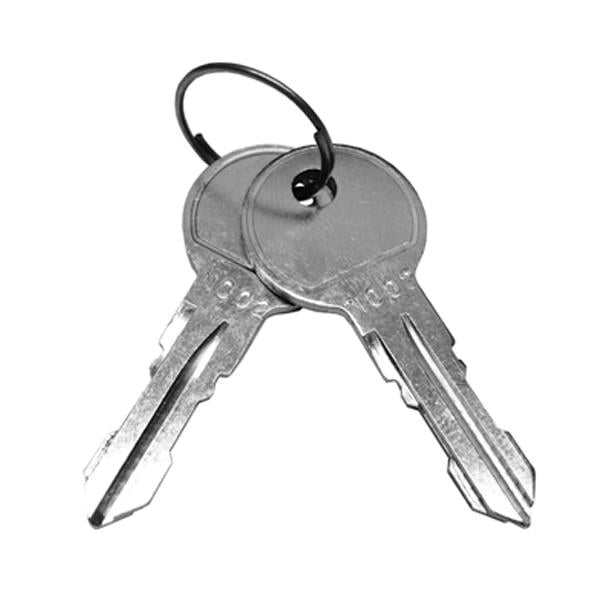 Safety
Please remember that it is your responsibility to make sure that every load you are carrying is safely secured to your vehicle. You must be aware of underground car parks and all overhead obstacles, roof bars, boxes and any associated loads add extra height to your vehicle. You must also be aware of cross winds and anything else that has the ability to affect the road handling of your vehicle. You have to be particularly aware of flexible loads such as surfboards, planks of wood etc, these must be properly tethered to the front and rear of your vehicle. Roofboxes must be loaded and used with due care.
Description
Complete set of aluminium roof bars, supplied with locks and keys, can be fitted in 10 minutes. These bars have a sleek design and come with the T-Track system and are very easy to fit. These bars are the ultimate balance of functionality and price, you will not be disappointed. Please read the reviews from our customers below.

More Details
General Info
Have you got factory fitted roof rails on your car? To get the most out of them you need the G3 CLOP Aluminium Roof Bars. Designed to fit most roof rails they will vastly increase the versatility of your factory roof rails and allow you to increase your vehicles load carrying capacity.
Fitting
The brilliant thing with the G3 Aluminium Roof Bars is that they come part-assembled and only take a matter of minutes to get them mounted to your car. The roof bars use a clamp style mounting system which grabs and locks onto the roof rails. Once they are positioned at the correct points on the vehicle they are tightened in place with the tools provided and locked securely onto the rails with the lock and key set which are also included. They really are one of the easiest roof bars to fit among our range.
Design
To highlight the lightweight, aluminium material these bars are finished off in a satin silver. On the top of the bar there is removeable rubber strip which reveals the T-track system which allows you to mount any accessories such as roof boxes or bike rack carriers. The rubber strip also helps to reduce wind noise when the T-Track system isn't being used. They also have G3 logo'd plastic end caps to finish them off nice and smart! The mounting points consist of a tough plastic casing which houses the high strength steel clamping feet as well as the locking system.This design helps keep the bars noise levels down as well as making them look stylish. To help protect your vehicle's roof rails the contact point on the clamps have protective rubber pads.
Features
- Easy assembly with no additional tools required. All instructions are included.
- T-Track System for mounting accessories such as roof boxes, bike/surfboard carriers.
- Unique locking system on each mounting point. Spare keys included!
- Passed City Crash testing and reach ISO/PAS European safety standards.
- Maximum load of 75 Kgs (depending on your vehicle's max load)
- 2-year manufacturer guarantee.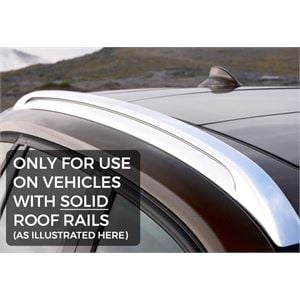 Payment & Security
Your payment information is processed securely. We do not store credit card details nor have access to your credit card information.
Other products to consider...